Badminton being one of the fastest sports in the world require great stamina, agility, passion, and hard work. That said, you simply can't think of playing badminton without suitable footwear. The best badminton shoes, thus become a necessity in this regard.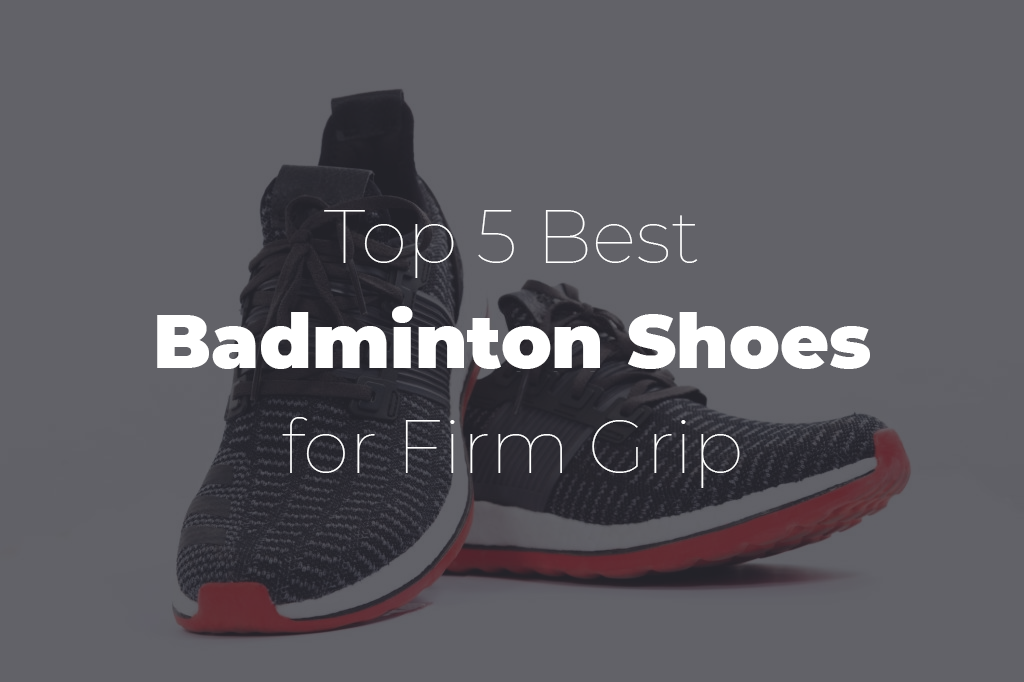 Shoes that are specially made for badminton are soft, well-cushioned, and they offer a firm grip on the ground as well. Not only that, but badminton shoes are able to absorb shock in an ideal manner.
Being a professional badminton player, I've tried like a zillion of footwear pairs for playing badminton. So, in case you are finding the best footwear option for badminton, I've found the top 5 picks for you.
Let's have a look at the best badminton shoes one by one:
1. Yonex SHB 65 Z – Best Yonex Badminton Shoes 2021
The very first pick up on our list i.e. SHB-65 by Yonex are the favorite choice of Kento Momota, the current world number 1 in BWF rankings. That said, Kento Momota, is an aggressive player and these shoes are there to comfort him in every regard. As far as the overall design is concerned, it is pretty much rugged and unique. Plus, the soft and sleek touch given to the shoes is simply awesome. The main reason for these shoes being top of the list is that they'll keep your feet as comfortable as possible while you are playing badminton. However, the price range is a bit high as this pair is already being worn by World Number 1.
Talking about some main features, one of the best badminton shoes by Yonex has got a textile upper for proper support and stability. On the other hand, perforations are also there to increase breathability.
Special power cushion technology being equipped within the midsole of the shoes ensure maximum shock-absorbing quality. This technology is the main reason you'll see many professional badminton players playing in these shoes.
As far as the overall construction is concerned, the best badminton shoes have been made from premium quality materials. That is why, while you are wearing them, there won't be any burden on your feet.
Lastly, Yonex badminton shoes have got a solid rubber outsole with hexagonal embossed grooving. This special outsole adds more grip and improves your footstep that is required for outperforming the opponent in a perfect manner.
Downfalls:
The only issue regarding Yonex SHB 65 Z is that they are not meant for women. On the other hand, the price is also a bit higher than expected.
Choice of World Number 1 Badminton Player

Power Cushioning is three times more Effective

Suitable for Professionals

Upper is Breathable and Supportive

Keeps the Feet as Comfortable as Possible
2. YONEX Aerus 3 – Shoes Worn by Lee Chong Wei
Yonex Aerus 3 is a choice of a legendary player i.e. Lee Chong Wei. The former World Number 1 has worn these shoes multiple times to outperform his opponents in the best possible manner. According to Lee, "Aerus 3 offers me enough thrust to jump higher for a powerful smash. They are comfortable and are extremely supportive in improving my footwork". So, this statement is more than enough to show the importance of these shoes. As far as the price tag is concerned, these shoes are expensive than the ones we discussed above.
Talking about the upper first that has been made with the combination of synthetic and mesh materials. This combination allows the shoes to offer support and stability. Apart from that, mesh plays its part in increasing the air ventilation inside the shoes.
Power cushioning technology which is a trademark of Yonex is also available within the shoes. That being said, the softer and well-cushioned midsole allows the players to jump higher than expected.
Contrary to that, the power cushioning available in the best badminton shoes also play a part in making sure that the shoes can absorb maximum shocks after returning from a jump smash.
Last but not the least, Yonex Aerus 3 badminton shoes have got a rugged and flexible rubber outsole with a special groovy pattern to ensure maximum grip on the ground. You'll never misplace your foot in the court while wearing these shoes.
Downfalls:
Aerus 3 are the choice of elites only. So, I won't be recommending them to you if you've just started playing badminton. Other than that, these shoes are not in range of players with low budgets.
Favorite Choice of Lee Chong Wei

Power Cushioning Technology

Flexible and Firm Grip with Rubber Outsole
3. Yonex Comfort Z – Used by Lin Dan
Comfort Z are the next pair of footwear on our list meant for badminton. The shoes are worn by Lin Dan who is another legendary badminton figure. Lin Dan was formerly sponsored by Li-Ning. However, after getting back to Yonex, he started using Comfort Z and according to him, these shoes are just fabulous. Lin Dan is known for quick footwork and unique trick shots. According to him, the shoes are helping and supporting way too much in trying different shots on the court. That's one of the reasons whenever badminton legends are concerned, Lin Dan will always be discussed here. The quality of Comfort Z shoes is simply unparalleled.
One of the best features available in best Yonex badminton shoes is that they've got a Double Russell mesh upper which is extremely supportive and is breathable at the same time.
On the other hand, hyper msLite midsole combined with power cushioning technology will keep your feet at ease while you are moving inside the court. Shock absorption is also up to the mark.
The reason Comfort Z is more liked by professional players as compared to other shoes is that its entire midsole has been equipped with power cushioning technology. Therefore, you can easily enjoy jumping higher than expected.
Lastly, a flexible and strong rubber grip with an embossed groove pattern allows a player to improve his balance while performing quick footwork steps. That is why you'll never see Lin Dan getting imbalanced while performing a trick shot.
Downfalls:
There are no major cons regarding the quality of the shoes as it's already been used by a legendary figure. However, price is still a problem as the shoes are simply unaffordable for peeps with a low budget range.
Used by Lin Dan (5 Times World Championship Winner)

Double Russell Mesh Upper

Whole Midsole is Power-Cushioned

Keeps the Feet Comfortable
4. LI-NING Men Saga – Cheap Badminton Shoes 2021
Here come the shoes from rival brand i.e. Li-Ning. Those who follow badminton closely will know that Li-Ning and Yonex are the two brands with ongoing rivalry in terms of players, rackets, shoes, etc. That said, Saga's badminton shoes are an affordable pick as compared to the shoes we discussed above. As far as the comfort level of the shoes is concerned, it is up to the mark. However, keep in mind that the power-cushioning feature is not available within the shoes as it's a trademark of Yonex only. That's one of the reasons, Li-Ning shoes are affordable and are meant for amateur or semi-pro players.
The upper of the best cheap badminton shoes, first of all, has been made with air mesh material combined with leather overlays. So, proper support and stability is imminent within the shoes.
Talking about the midsole, Multiflex induced midsole present in the shoes makes it easier for you to make quick movements inside the court. Therefore, apart from comfort and convenience, the midsole also plays a part in improving overall performance.
One of the main reasons I recommend Li-Ning badminton shoes to amateur players is that they are made with XSTRUCTURE technology. This option helps to provide a perfect fit to the feet according to the posture they have.
Finally, the best Li-Ning badminton shoes have got a rubber outsole with multiple grooved patterns. It helps your feet to maintain a step taken on court. Firm and strong traction on the ground is thus ensured without any worries.
Downfalls:
As I've said above, the shoes introduced by Li-Ning are meant for playing badminton casually or if you want to practice your footwork. However, keep in mind that they are not a suitable pick for competitions. I'll recommend you to choose them only if you are a beginner.
Air Mesh Upper with Leather Overlays

Xstructre Protection is Ensured
Not Meant for Professional Gameplay

Should be used for Playing Badminton Only
5. LI-NING Men Badminton Shoes – Best Shoes for Footwork Drills
Finally, the last pair of badminton shoes left on our list is for those players who want to improve their footwork skills drastically. Li-Ning badminton training shoes are specifically designed to offer better comfort and convenience to the feet. In this way, you can surely enjoy improving your footwork skills to enhance your overall performance. As far as the price range is concerned, the shoes are available at an extremely affordable cost. That's the main reason I'll be recommending them to amateurs and beginners.
The best badminton shoes, first of all, are breathable. That is, the upper of these shoes have been made with mesh and textile material to ensure maximum air ventilation along with proper support.
Other than that, the midsole offers well-balanced cushioning to the feet and has shock absorptive properties at the same time. Therefore, it is easier for you to roam around the court without any issues.
Xstructre protection from Li-Ning being induced in the shoes offers a better fit. Right after getting adjusted the shoes won't make your feet at discomfort no matter how harshly you use them.
Lastly, the badminton shoes have got a full-fledged rubber outsole with embarked grooving pattern design. This allows your feet to keep a firm grip on the ground. Thus, you can easily improve your footwork skills and can get quicker as time passes.
Downfalls:
The shoes from Li-Ning although are affordable, cannot be used for professional competitions. Go for Yonex footwear options especially if you want to outperform your opponent from all perspectives.
It can be used Occasionally
It can't be used in Professional Competition
Wrapping Things Up:
Now that all things are made clear, it's up to you which footwear option you choose according to your gameplay and budget range. In my opinion. Li-Ning Saga should be your choice if you are just a beginner and for professional players, I'll recommend them to go with Yonex Aerus 3.
Good Luck!!